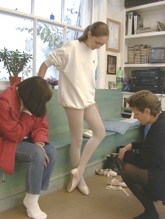 This page is for the dancer who is already to be fitted with pointe shoes.
Remember that correctly fitting pointe shoes will save your feet.
To prevent injury to the dancers feet, the shoes have to be fitted correctly and fit the dancer's foot as accurately as possible.
Both Demi – pointe and Pointe shoes need to be fitted as tightly as possible. Our feet are not designed to dance on pointe and in fact the bones in the toes are some of the smallest in the body. When we dance on pointe, the natural three-point support system of the foot is lost totally and so the shoe has to replace the three-pointe support system.
It is therefore very important to find the correct shape, style and size of shoe for the dancer, making sure there is no room to slide around in the shoe. Our shoes come in three different styles, half sizes and 5 different widths as well as 5 different shank strengths. If we do not have the correct shoe in stock we can order it for you.
Fitting
As the young dancer grows it might be necessary to replace the shoes each term. The shoes will have to be refitted until such a time as the dancer settles down to the same fitting every time.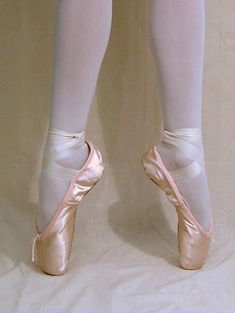 INCORRECTLY FITTED POINTE SHOES
Life of the shoes
The support of the pointe shoe depends largely on how the dancer looks after her shoes. If the shoes are dried out on a regular basis, they will last much longer. Our shoes are made entirely from natural materials and the shoes will simply rot if left in their plastic bag at the bottom of the dance bag.
Dancing in broken shoes
It is important to change the shoes as soon as the support through the metatarsal heads is lost or the toes end up in the bottom of the box of the pointe shoe. Wearing broken shoes can cause hairline fractures and they will not show up on an x-ray until 6 weeks after the damage has occurred. So change shoes when the support is lost or stop dancing on pointe until you can replace the shoes.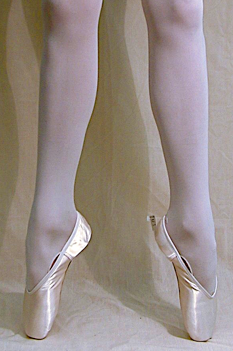 CORRECTLY FITTED POINTE SHOES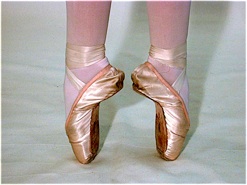 DANCING ON BROKEN SHOES