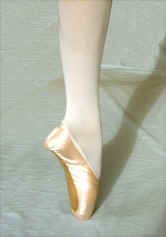 This page is for the dancer who is ready to be fitted with pointe shoes.
Remember that correctly fitting pointe shoes will save your feet.
The fitting of point or demi–pointe shoes for the very first time will take a bit of time and patience on your behalf. It should never be rushed.

The fitting of our pointe shoes is based on a system I have developed over the last 25 years and is based on the following anatomical facts.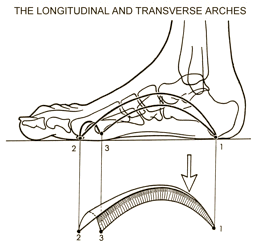 The shoe has to be fitted as tightly as possible, not allowing the foot to slip down inside the shoe, causing damage to the toe joints and the feet in particular. This can be done because Grishko pointe shoes have built in a roll through principle allowing the foot to move safely from demi–pointe to full pointe.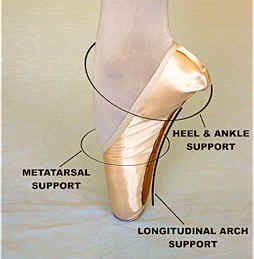 3 point support system of the foot.
The foot has a natural three-point support system and when the foot moves onto demi–pointe, the three points of support move to a new position.


However when the foot goes fully on pointe the three points of support are lost entirely so the pointe shoe must replace the three points of support to the dancers foot.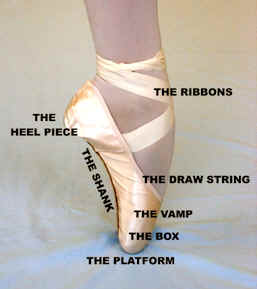 To further protect the dancer's feet each toe and the metatarsal heads will be taped for support as well as protection against rubbing of the skin during pointe work.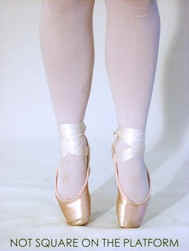 The fitter will be working closely with the dancer's feedback and it is important that the dancer reports what she can feel and experience.
Changing from another make of Pointe shoe to Grishko
Working in a Grishko pointe shoe is quite different from any other shoe and to start with it will take time for the muscles to adapt.
However the support of the Grishko shoe is such that it will allow the dancer's foot to grow out of the shoe. The leg muscles elongate and change shape, giving the dancer a feeling of much longer legs.
From experience it is worth going through this re-education program and when it has been completed successfully it is impossible to dance in any other shoes.